A challenge to design wearable and sensor technology that serves people in resource constrained environments.
THE CONCEPT
It is a wearable toy placed near or worn on the body for data collection to detect Post Traumatic Stress Disorder. Toy can easily transform into a bag by attaching arms and legs to create shoulder straps. The toy was designed to record behaviors that will indicate the stress level over a period of time by using sensors embedded in the toy. It assess  various scales to measure the risk of PTSD. This will allow us to identify the kids that would require formal in depth diagnostic of their PTSD and to be able to treat them properly at the early stage of PTSD development.
ROLE
User Experience, Research, Prototyping, Design
DEVICE
Wearable, hardware, software
YEAR
2015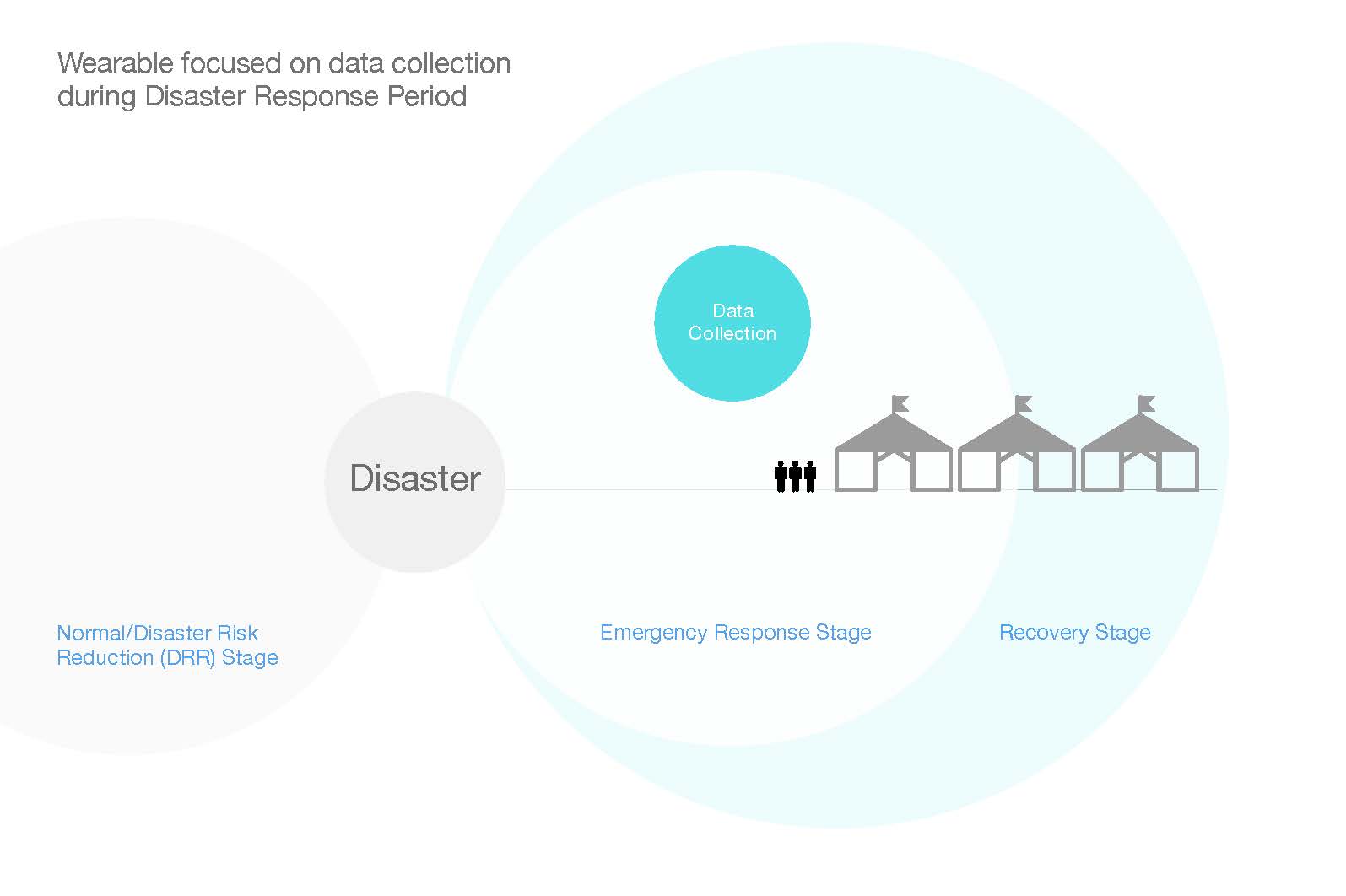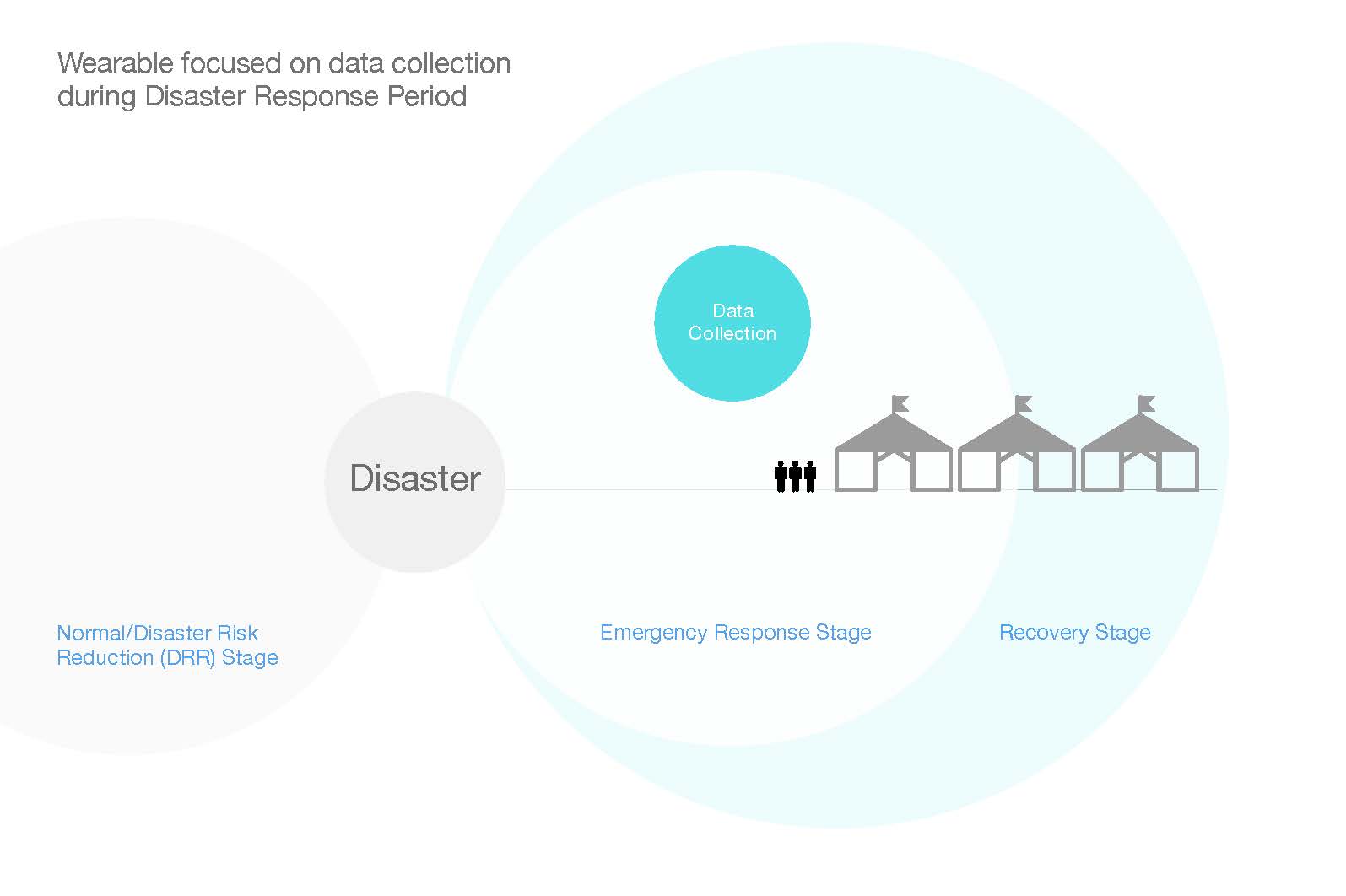 Who uses it?
Users of wearable: Children (age 9- 15)
Data collection created by this toy is accessible to Specialists/Doctors that are assigned to the users. It is also accessible as open source but with privacy settings for certain data it maybe only available in set age tiers.
How does it work?
DATA COLLECTION
At the time of toy distribution, quick and simple on boarding process will be performed by a staff using hand held mobile device or work station to generate the account of the child and input the basic demographic data. The voice of the child will also be recorded to be used as a bench mark for analysis later.  
Each toy that is registered with a child records voice and movement activities. It will record within the duration of 1 week or during the short period of time family is staying at evacuation/disaster recovery center. Wearable toy records audio based on levels of pitch, volume, tone, tension in voice. Accelerometer is able to capture sleeping behavior, walking, running, abnormal movements, physical activities that may detect violence or depression. Holistically these sound and movement data collected will allow us to analyze their psychological and behavior pattern and assess the risk of PTSD at an early stage.
DATA ANALYSIS
Once the sound and movement data has been uploaded to the web based analysis portal, the PTSD risk level will be assessed automatically for the child. The analysis portal will have powerful features that will allow UNICEF to manage the result of analysis and following treatment activities. Examples of features are as below. 
- Ability to see the PTSD risk level assessment in an intuitive way by assessement variables such as anxiety level, depression level, anger level or Etc. 
- Ability to perform group analysis based on age tiers, region or disaster. 
- Ability to filter and sort the library of individual data records by different attributes. 
- Ability to see volunteering psychiatrist and medical institutions.
- Ability to see the status of treatment (e.g. to be treated, in treatment, treatment ended, etc )
- Ability to download the data and report to local hard drive.
- Ability to share the report via email.
- Ability to comment on the progress of treatment.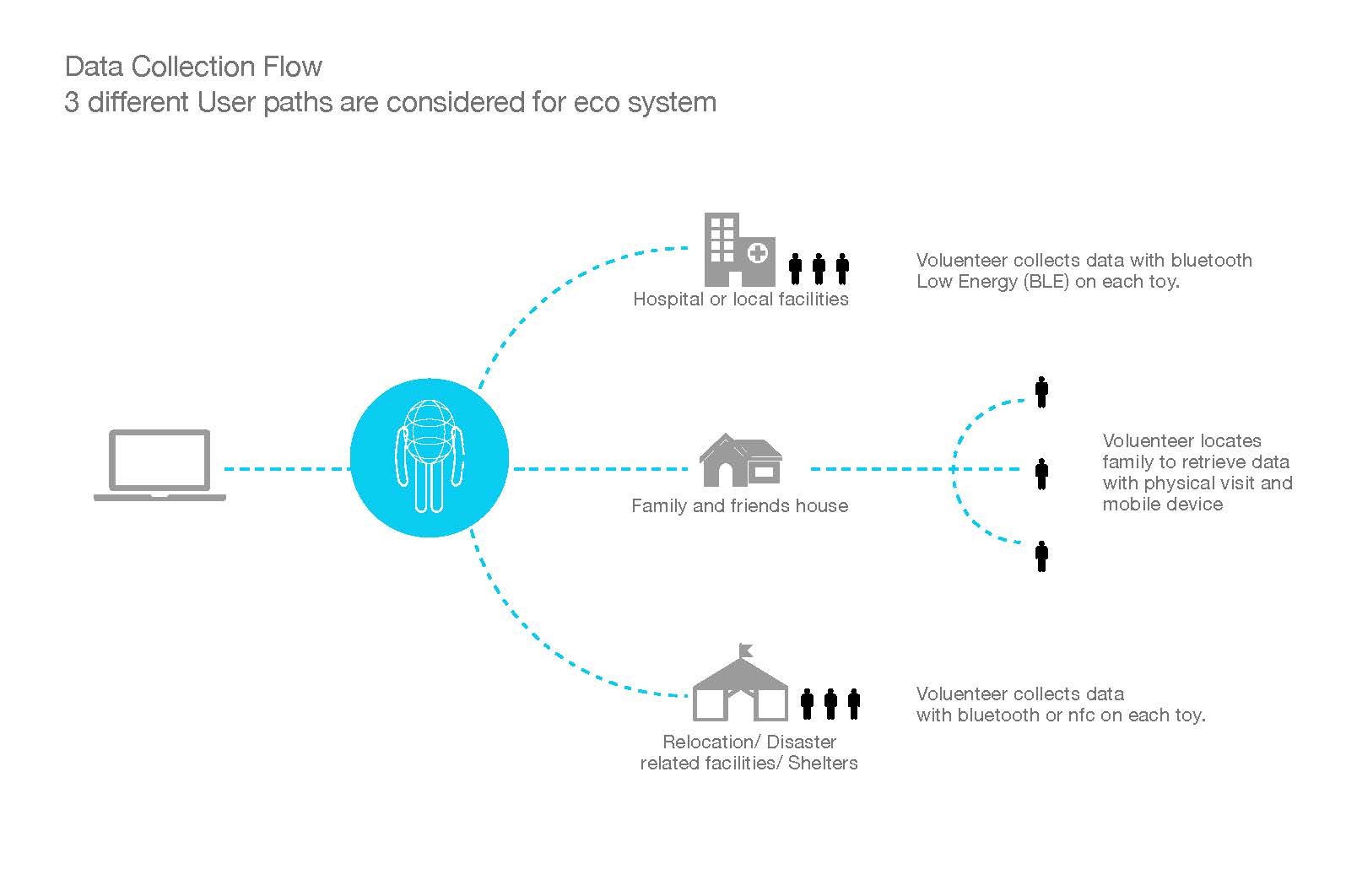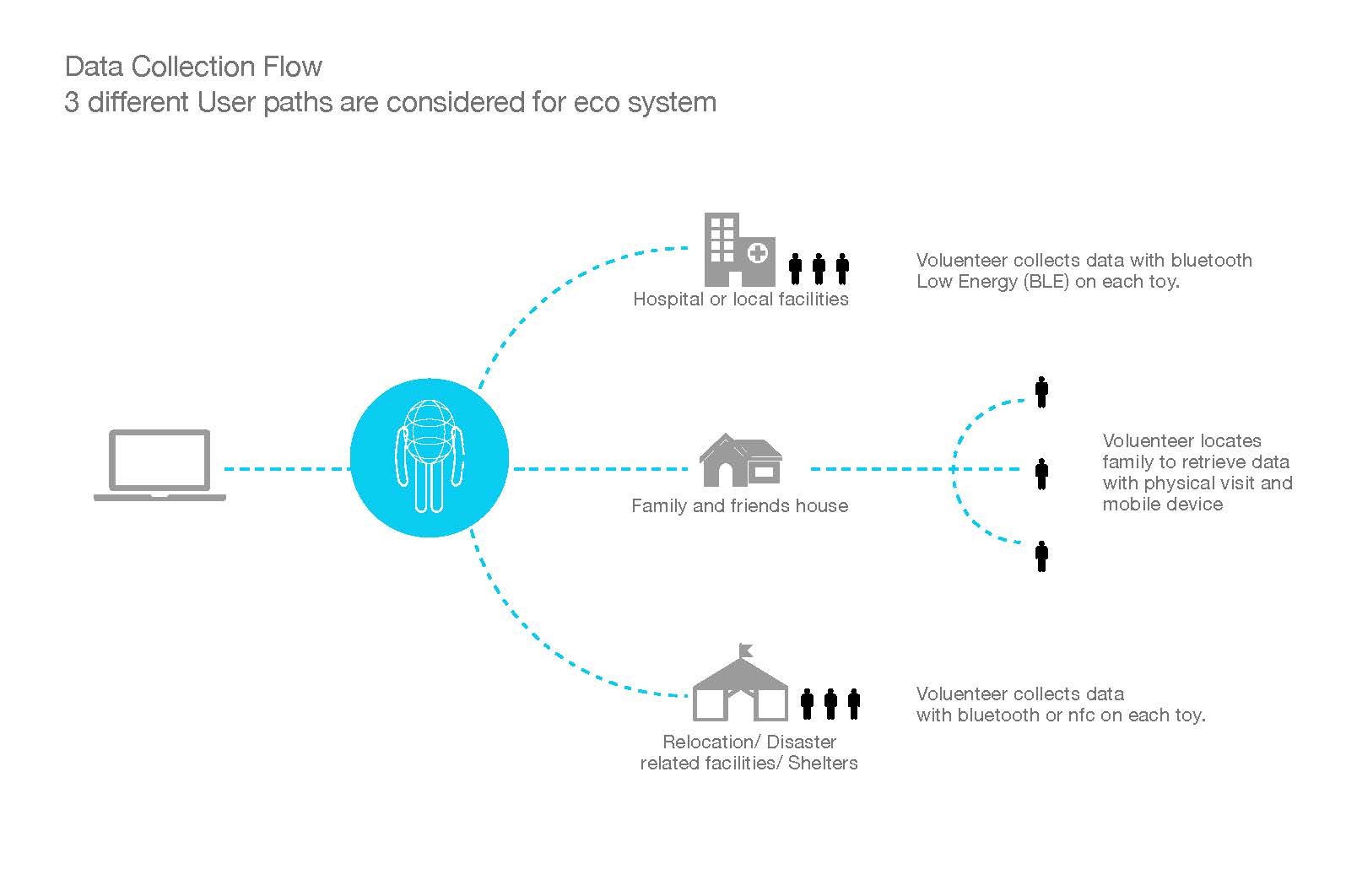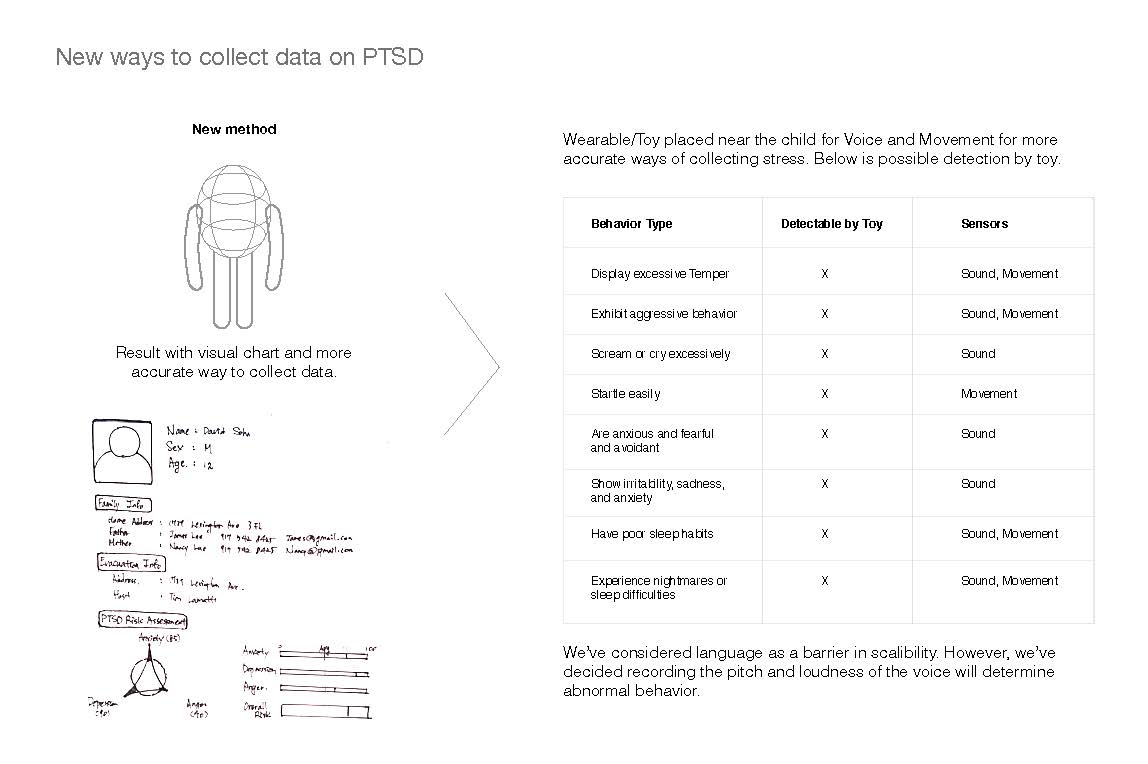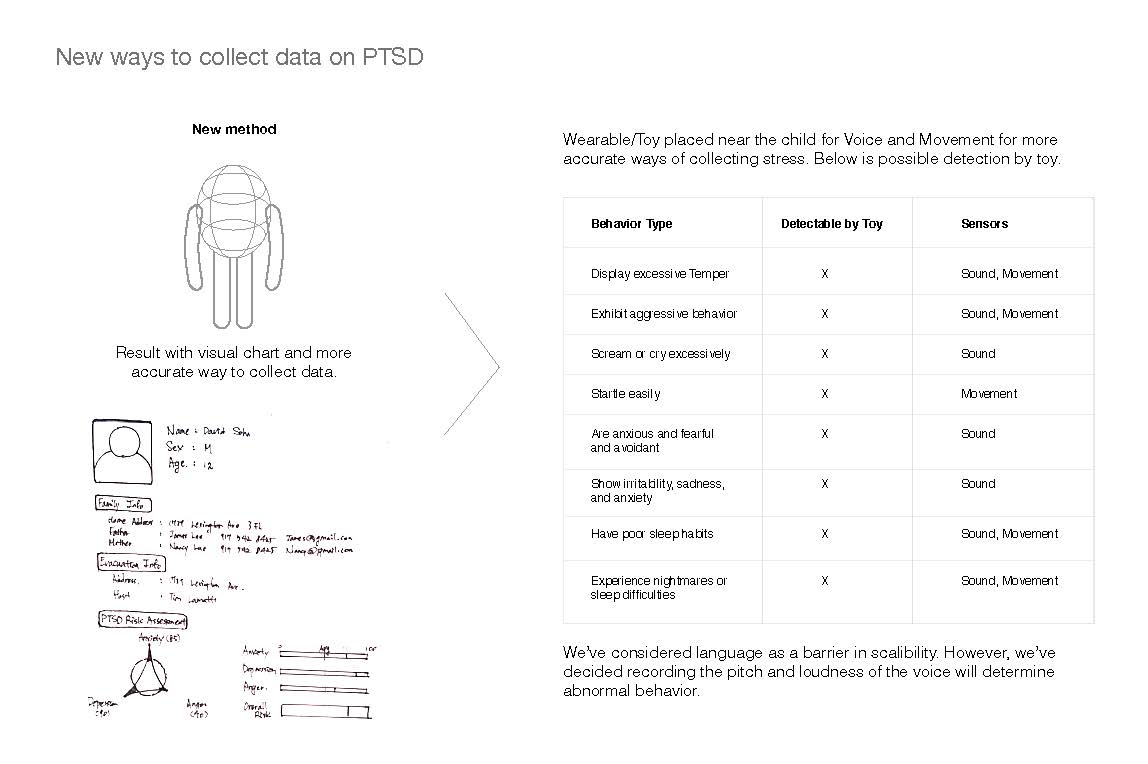 What technology does it incorporate?
For data collection, it will incorporate two kinds of sensors; Audio sensor (microphone) to capture the voice pattern of child, and Accelerometer to capture behavior patter of child. Wireless data transfer technology such as Bluetooth Low Energy (BLE), Near Field Communication (NFC) or etc, will be used to transfer the data in toy locally to another mobile device or a work station. This data will be uploaded to web based analysis portal for the PTSD risk analysis. For data analysis, it will incorporate the software algorithm that assess PTSD risk based on voice and movement data.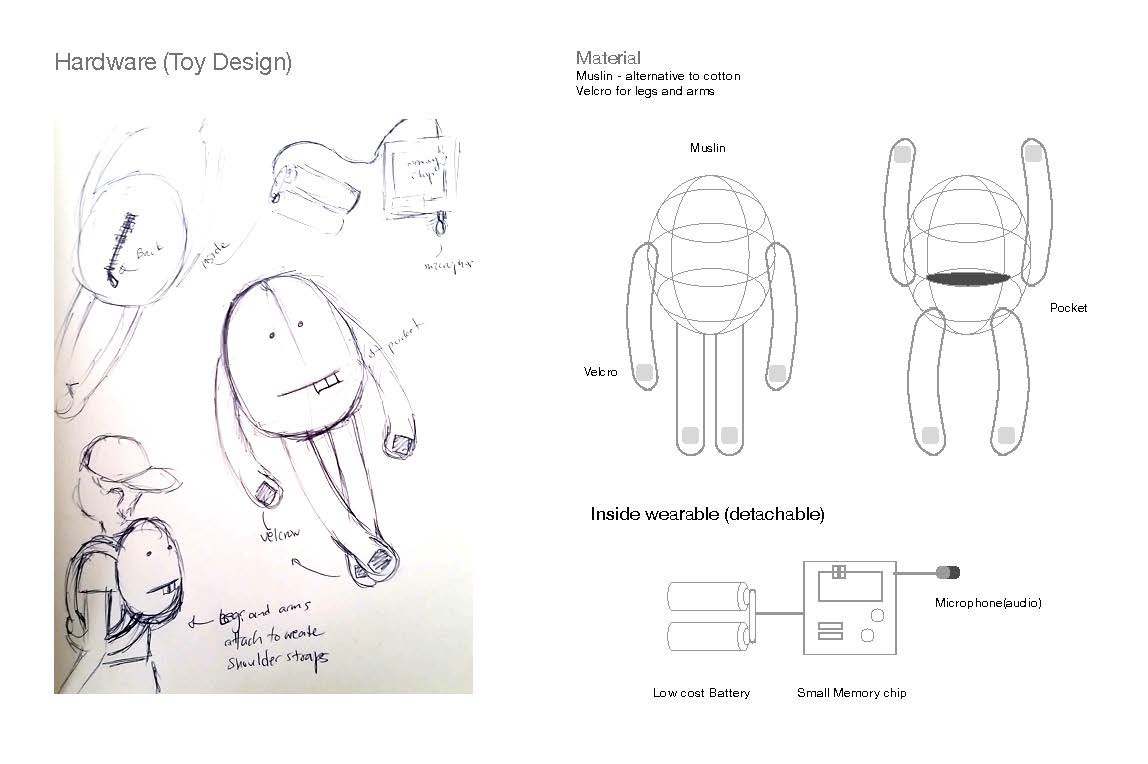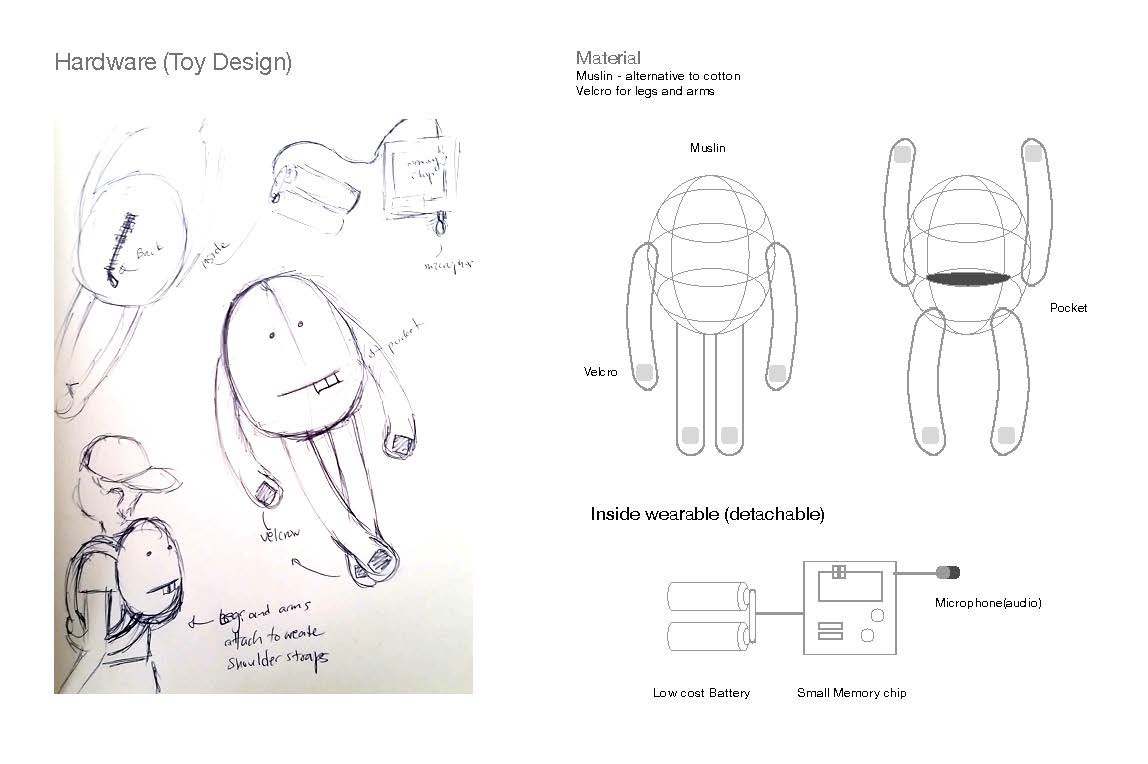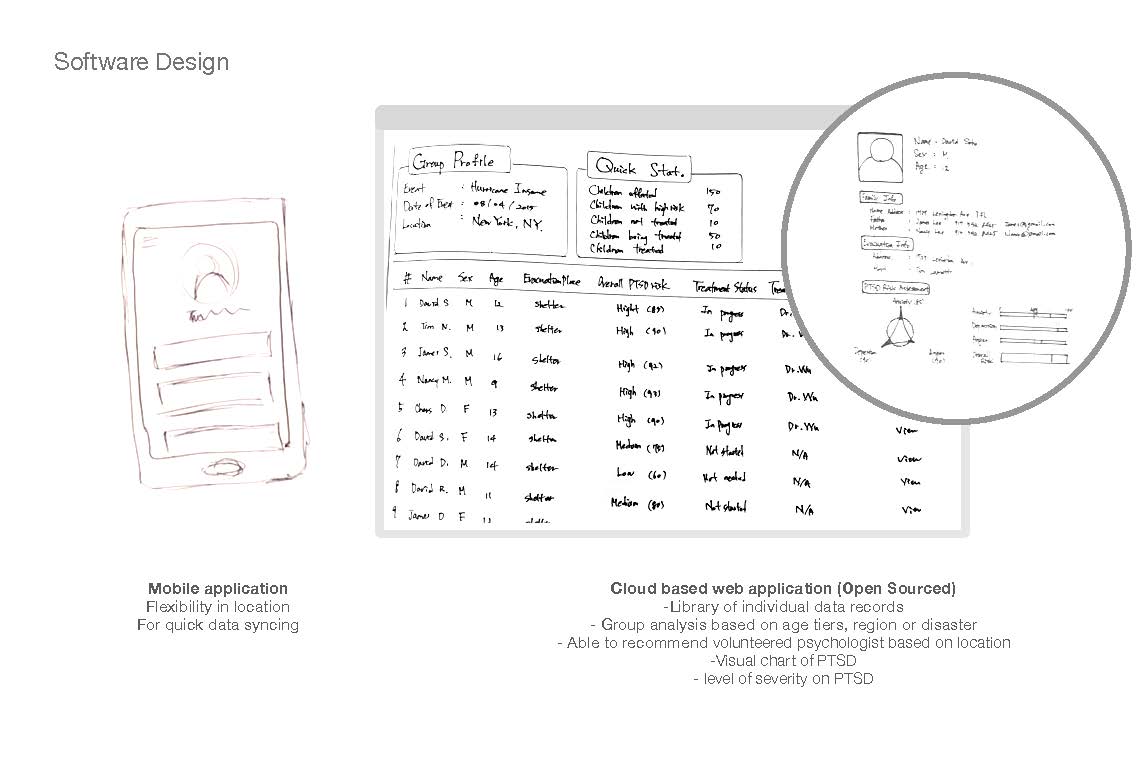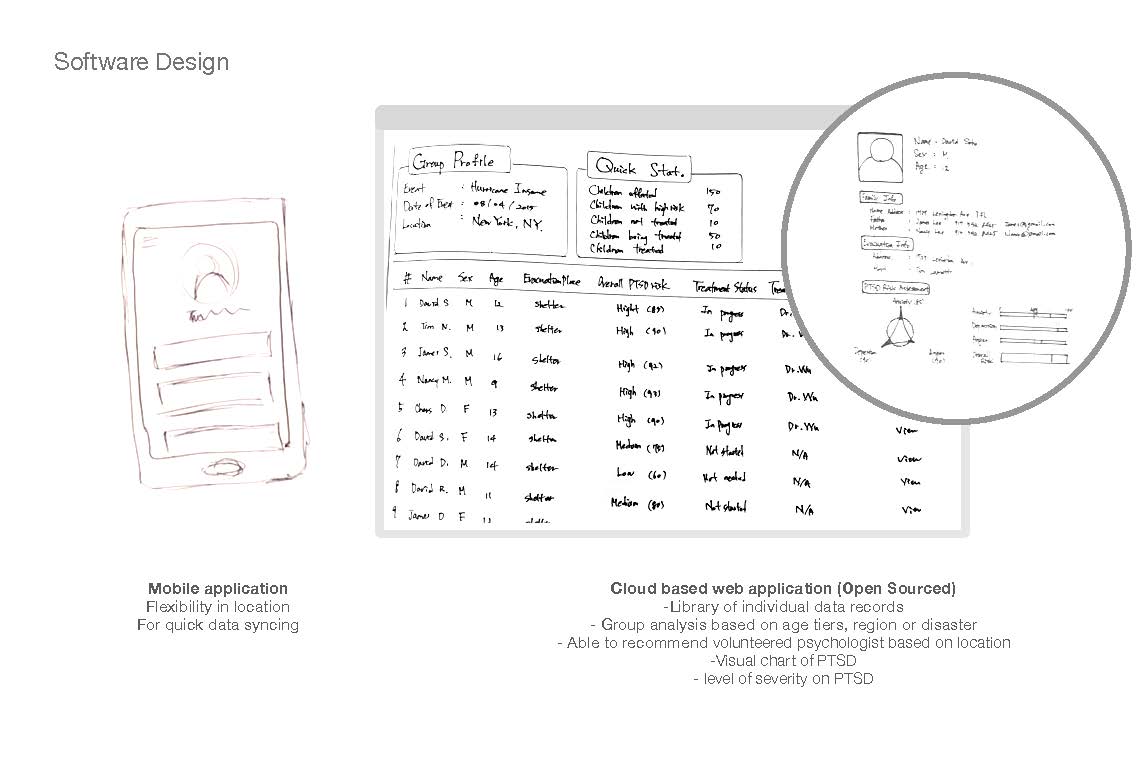 How is it Used?
Each toy is registered to a child in shelter/hospital/recovery centers during the disaster response period. It is designed as a blank canvas doll for child to personalize with markers. It is meant to be a toy for comfort as well as entertainment during the stay at these shelters and disaster recovery centers. Toy will detect sound and movement by audio and accelerometer sensor of the toy. Each toy collects the data which syncs to the software for quick diagnostic based on these data collection. It is able to find a list of volunteered psychologist/doctors for treatment at an early stage.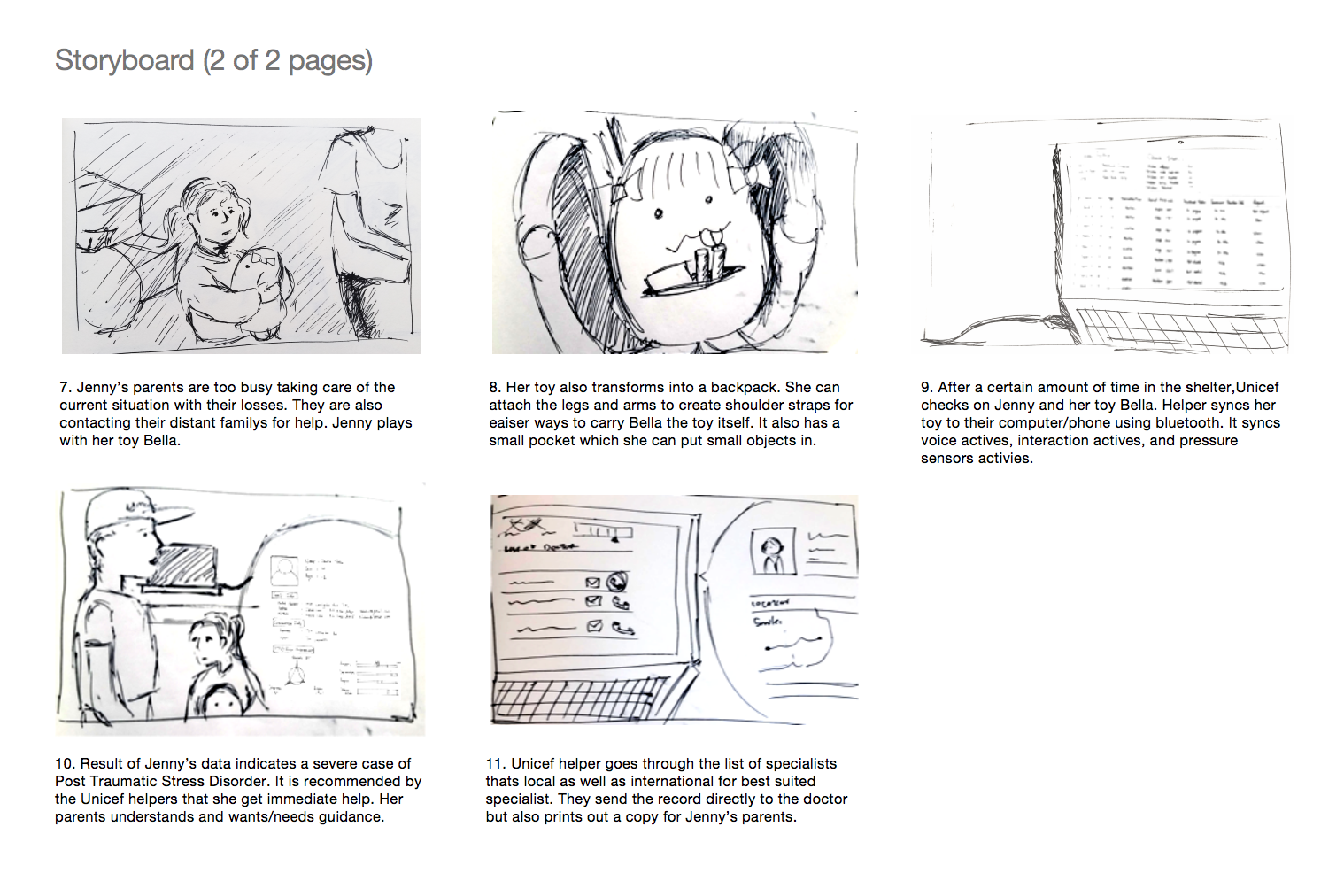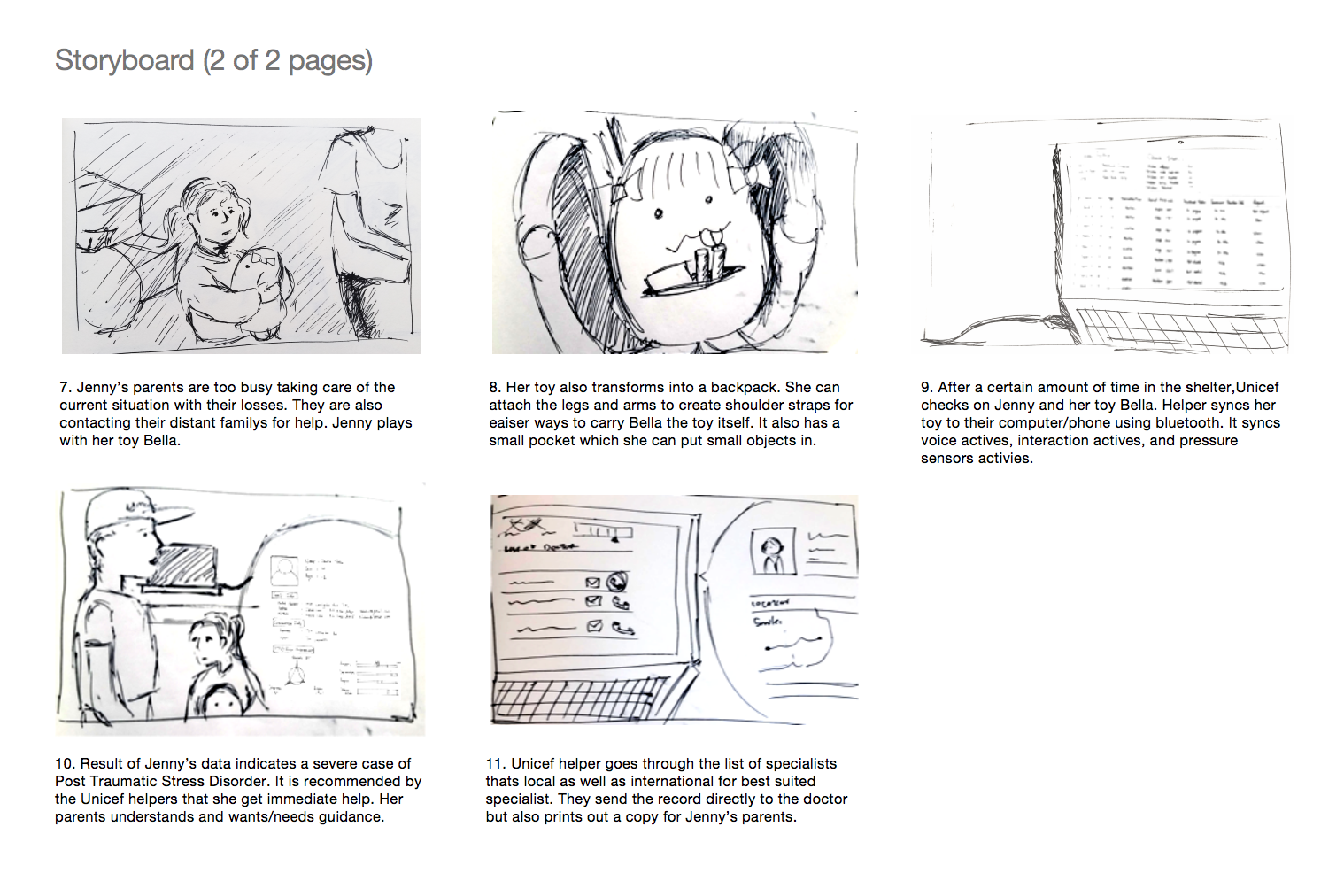 How does it work within the use case?
In the event of natural disaster, the research shows that children move around from 1 to 10 places with mean of 3, and attended can average of two schools with a range from 1 to 5 schools. Less than half return to their house. Loss of parents, friends, personal belongings that they were used to be attached to have a significant impact on children's mental health showing psychological and behavior change, and lead to PTSD most of times. 
Currently there is no initiative for detection of PTSD pre/during/after disaster periods for children. It is an overlooked area for cognitive growth at a very sensitive stage for children. We want to improve the ways we collect data for better and earlier stages of PTSD. We believe it is a critical time for children to get diagnosed in a more efficient manner. This will also create a data bank that will be open source for further studies.
Who benefits from this?
Children - Children who lost their personal belongings: In the event of disaster, children loses most of their personal belongings that they were attached to. We are providing a new toy that is friendly in its look, comfy in feeling, and fun to play with will bring a joyful experience for children in the mist of difficult time. It is also designed to be personalized to their own creativity. The toy will become a new friend that will form the most intimate relationship with the children during the time of difficulty. 
UNICEF - Unicef thrives to help children in need of help in the world and is open to find any mean that will empower them to do so. This toy, which can be built at low cost at scale, will enable them to help children who were affected by the natural disasters. Children are much more likely to develop PTSD by environment change than grown up adults. This project will help them to identify the children who have the highest risk of PTSD at an early stage, and prevent the life long trauma and struggles that children would've had to experience otherwise. This will offer a mean for UNICEF to provide the proper and necessary treatment to children in need at an early stage. 
Research Organizations and Academic Organization - The sound and movement data of children collected in the event of different disasters at different locations will constitute the data base that can be used for further holistic phycological and behavior pattern studies by Research organizations and academic organizations.  Over time, this data base will become invaluable asset that will empower us to further improve the understanding of PTSD development and treatment of it.